The F1 Dairy Blueprint is here!
---
THE F1 DAIRY BLUEPRINT
New V8 2021 Edition
The F1 Dairy Blueprint has been designed to explain in fairly non-scientific language a rational system for feeding modern dairy cows. We recognise that just about every farmer has their own preference and approach to feeding the cow. The F1 Dairy Blueprint is designed to be flexible and can be adapted to suit just about everyone.
---
THE F1 BIRTH TO CALVING BLUEPRINT – NEW 2020 EDITION!
New 2020 Edition!
Includes The F1 Dry Cow Blueprint
There has been an enormous amount of progress made recently with regards to ensuring that the dairy calf gets off to a great start in life. This blueprint looks at the techniques required to successfully rear a healthy dairy heifer which will calve ideally at around 23 months.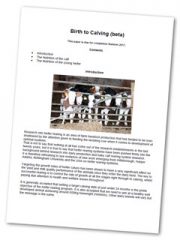 ---